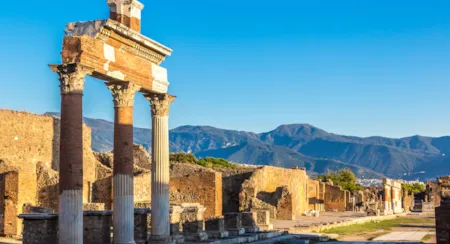 Camping in Pompeii
You'll find 2 campsites in Pompeii. It is, along with Herculanum which is close by, the most visited archaeological site in the world. Both campsites, Camping Zeus and Camping Spartacus, are located right next to Pompeii's remains.
Read more
2 campsite(s) available from € 56 Several factors can affect a campsite's ranking. More info
Seaside
Children activities
Swimming pool
Restaurant
The bay of Nerano is an enchanting little bay on the coast between Sorrento and Amalfi coast at only a few Km distance from Sorrento, Positano and the isle of Capri.Nettuno village is the ideal place to spend a seaside holiday, where you can have fun, diving and also go on trekking excursions on the nearby hills and mountains. There are various types of accommodation available for our guests: residence, mobile houses, camping area and flats in an ancient Saracen Tower.If you want visit Sorrento coast Amalfi coast and the peninsula of sorrento this is the ideal place where to start
Seaside
Children activities
Swimming pool
Restaurant
Panoramic pitches with a view of Vesuvius and the Gulf of Naples, immersed in Mediterranean vegetation of olives, lemons, and oak trees centuries old, guaranteeing a holiday close to nature. Equipped with electrical hook ups with 6 amp, various communal shower blocks with toilet and shower facilities, with free hot showers and basins to wash clothes and dishes. Large entrance which allows easy access to our campsite. We are the only campsite on the Sorrentine Peninsular and Amalfi Coast which can accommodate large caravans and campervans, with the possibility to use the Camper Service, discharge the chemical WC and re-fill drinking water. In an oasis of peace, amongst the vegetation of olives, lemons and oak trees. Enjoy the amazing panoramic positioning. Log Cabins and bungalows prefabricated in wood, complete with kitchen, fridge, toilet and shower facilities, hot and cold water, electric heaters, bed linen and towels, insuring a comfortable stay. Private rocky beach, swimming pool, restaurant, bar and mini market. Excursions leaving from the Campsite - Campeggio Santa Fortunata Campogaio for: Capri, Ischia, Pompei, Herculaneum, Positano, Amalfi, Ravello, Paestum, Naples and Vesuvius. The Camping Village is 2 km from the centre of Sorrento and is well connected by public transport with buses running every 20 minutes until late at night.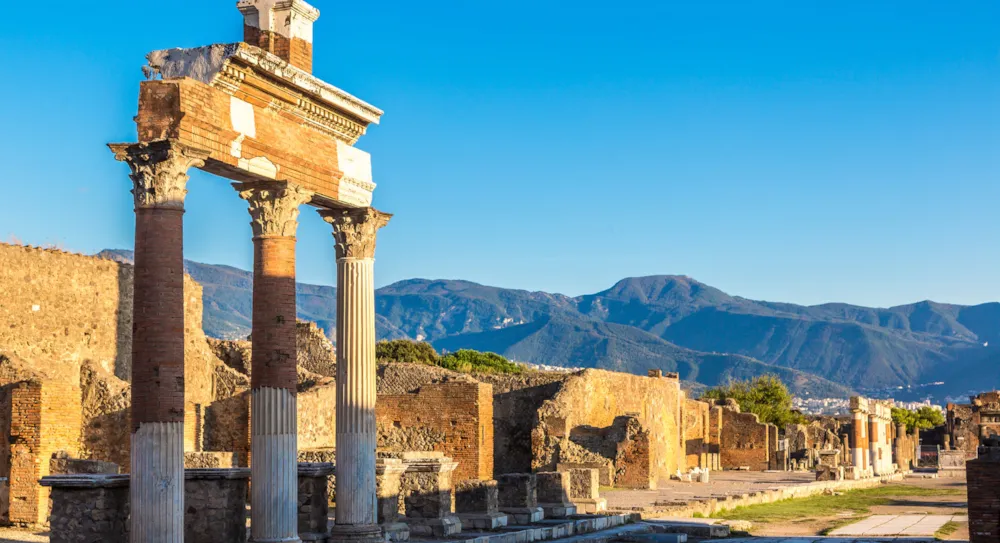 Located halfway between the 2 available sites, Pompeii Scavi station enables to get to downtown Naples in 30 minutes only, with a train every 40 minutes.
Visits
The ruins of Roman cities Pompeii and Herculanum were created, and preserved, by the eruption of Mount Vesuvius in AD 79. It also destroyed the cities of Oplontis and Stabiae. You can buy separate tickets to visit each site individually whenever you want or purchase a tocket that gives you access to all of them during 3 days.
More camping destinations