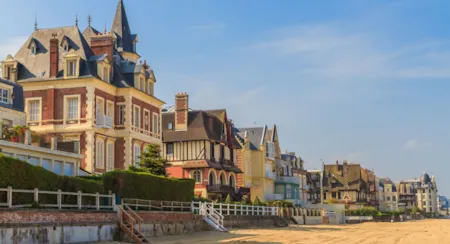 Camping Normandy
Normandy, in the north west of France, promises plenty of surprises and a change of scenery for a perfect family holiday by the beach. With its 600 km coastline, Normandy, just across the English Channel, is very diverse and there's something for everyone to make for a great camping holiday.
Read more
69 campsite(s) available from € 44.10 Several factors can affect a campsite's ranking. More info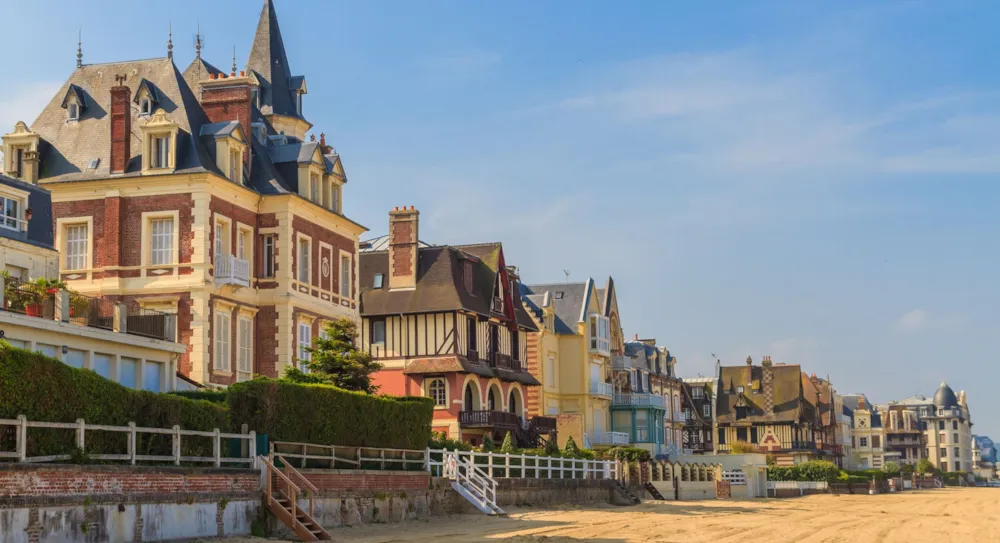 Why choose a campsite in Normandy?
The campsites in Normandy are mostly located along the coast and near its rivers. Whether you choose to stay at one of the chic seaside resorts or the D-Day landing beaches in Calvados, Normandy is a beautiful region and perfect for a family holiday with children both young and old.
The campsites in Normandy will provide you with everything you need for a relaxing holiday. Whether you book rental accommodation (a cabin, a mobile home, a pre-pitched tent) or a camping pitch for your tent, caravan or camping car, the campsites offer you a variety of facilities and infrastructures to fit your needs during your stay.
There is a wide variety of campsites to choose from in Normandy. Many will have a swimming pool and some even a water park with waterslides, water playgrounds for young and old and a heated indoor swimming pool, so you can enjoy a splash in the water even if the weather outside is overcast. Many campsites have a children's and, in some cases, also a teenagers' club. Playgrounds and sport equipment can be found at almost all campsites in Normandy. The more luxurious campsites even offer a wellness area with a spa, jacuzzi and hammam for a moment of relaxation after a day on the D-Day beaches, visiting Normandy's villages or kitesurfing on the beach.
For a bank holiday weekend, a 1 night stay on your way to the south of France or for your family summer holiday, you will find a campsite in Normandy to fit your needs and your budget. There are campsites with a single star if you choose to go for the basic needs or those that have 5 stars and all the luxuries of home ... or more. There's nothing like a stay at a campsite in Calvados, the towns of Etretat, Caen and Deauville or near Mont Saint Michel as a base to explore Normandy!
Activities to do from your campsite in Normandy
Normandy is a region full of history and stunning scenery. Whether you are in Haute Normandy or Basse Normandy, there is plenty to do during your holiday.
Normandy's great outdoors consists of a network of more than 3,000 kilometres of long-distance footpaths (GR) which allows the keen walker and hiker the opportunity to discover Normandy's countryside, its bocage, beaches and cliffs from up-close. With more than 550 kilometres of cycle paths, Normandy is also an ideal playground for the cycling enthusiast. If discovering the world from high up in the sky, the cliffs of Normandy that reach as far as the eye can see, are an ideal place to practice aerial sports, such as microlight flying, paragliding and hot-air ballooning. There are also plenty of water sports activities to enjoy when you go on holiday at a campsite in Normandy. With more than 600 kilometres of coastline, discover kite-surfing, sand yachting, paddling, skimboarding, and sailing to name but a few.
For most people a visit to one or more of the D-Day landing beaches is a must. A visit to Omaha Beach and Utah Beach can easily be combined with a visit to the war memorials and the village of Ouistreham. You can also choose to visit the town of Honfleur, with its slate houses. Its postcard perfect setting was an inspiration to many artists, one such artist being the painter, Claude Monet. The town makes for a relaxing stay in the summer or for a holiday break out of season.
Normandy is known for its typical architecture of its towns. Discover the half-timbered houses and the historic centre of Bayeux and the village of Cabourg, the town of writer Marcel Proust. The village of Lisieux, famous for its surrounding valleys and bocage and the village of Cherbourg with its port. The towns of Rouen, Granville, Trouville sur Mer or Dieppe are also worth a visit.
You will find a beautiful natural site in Normandy at Etretat, a place, that has attracted many artists throughout the years. Enjoy the extraordinary views whilst walking along the white chalk cliffs and bring out the artist in you, even if it's just by taking some photos to send home to the rest of the family.
If being surrounded by nature is essential to your camping holiday than another great site to visit are the forests of Orne and the Normandy-Maine regional park further inland. The park has been labelled by UNESCO as one of its Global Geoparks, meaning it is a single, unified geographical area where sites and landscapes of international geological significance are managed with a holistic concept of protection, education and sustainable development.  
Finally, you can't leave Normandy without visiting Mont Saint Michel and more precisely the rock on top of which stands the abbey of Mont Saint Michel.
When to go
Normandy has an oceanic and temperate climate. It is subject to various bad weather conditions, especially rain at certain times of the year. We therefore advise you to book your holiday accommodation or camping pitch between May and October.
Going at this time of year allows you to enjoy plenty of outdoor activities along Normandy's coast, visit its towns, villages, memorials and countryside. And of course, you'll have plenty of time to spend on the beach and at the campsite's swimming pool. A great holiday to be had with the whole family, friends or together with your partner. It's time to book your holiday and discover all that Normandy has to offer.
More camping destinations