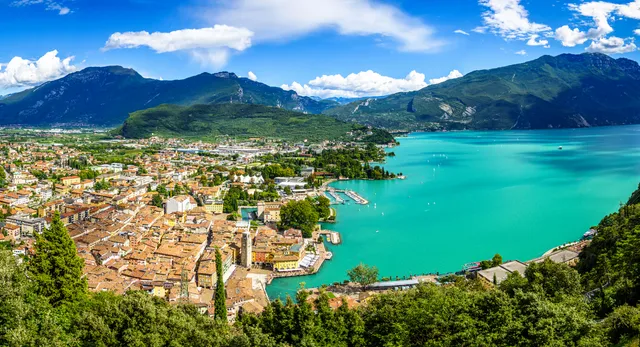 There are about 100 campsites by Lake Garda. It is Italy's largest lake and it is located halfway between Venice et Milano and is divided between Veneto on its eastern bank and Piedmont on its western bank. The area's particularly mild weather and the lake's beauty have turned it into an international favourite to spend relaxing holidays. Under or among the palm trees, olive trees, lemon trees and vineyards, you can stay at a campsite of Lake Garda.
All kinds of water activities are available at the campsites of Lake Garda (swimming and sunbathing come first of course but you can also have a go at paddling, windsurfing, pedaloing with your family...).
When you go camping by Lake Garda
There's a spot you simply can not miss if you're camping by Lake Garda the road starting from Tremosine and called "la Strada della Forra", one of the most scenic drives in the world, but several other things are worth doing in and around lake Garda.
Visit Gardaland, in Castelnuovo del Garda and close to Lazise, Europe's largest amusement park, many thrilling rides to be had by both children and grownups.
Visit the castle Castello Scaligero in Malcesine
Climb the steps to Santa Barbara Church in Riva del Garda, the chapel lies at 600 metres above the lake!
Visit Movieland Park located between Peschiera del Garda and Lazise sul Garda.
Take a day trip to Milan, in the Lombardy region, or to Venice, in the Veneto province, both of which are just over 2 hours' drive away.
More info
What type of accommodation?
18

campsite(s) available Several factors can affect the classification of a campsite. More info