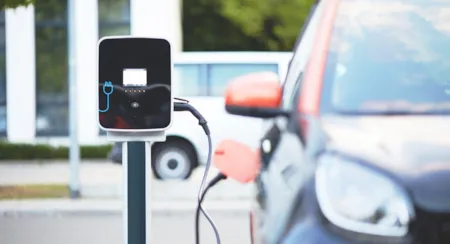 Camping holidays with an electric car
More and more people are buying an electric car out of respect for the environment. Whereas not so long ago electric cars could only be used for short journeys in the city because of their very limited battery life, the new generation of electric cars, with their longer battery life, can cover greater distances (up to 500 km). So there is no reason why you can't go on a camping holiday with an electric car, even if you want to go camping abroad (in Spain or Italy, for example).
Read more
169 campsite(s) available from € 46 Several factors can affect a campsite's ranking. More info
Campsites with charging stations for electric cars
We have compiled a list of campsites in the immediate vicinity of which there is a charging point for electric cars. You will find campsites in France, Italy, Spain, Croatia, Germany, the Netherlands, Austria, Luxembourg and Slovenia.
Planning a trip with an electric car
Before setting off on a trip with an electric car, however, there are a few things that need to be clarified. For example, an itinerary should be determined in relation to the charging stations for the vehicle, so that the chosen camping destination can be reached without difficulty.
According to the European Alternative Fuels Observatory (EAFO), there are currently around 290,000 charging stations for electric cars in Europe, and the trend is upwards. The goal is to have 1 million charging stations in Europe by 2025. This will make it increasingly easy to plan a holiday in an electric car.
Travelling by electric car and sustainable camping on site
The electric car 'craze' is accompanied by a desire to experience sustainable holidays at the destination as well. Increasingly, holidaymakers want camping to be run in a sustainable way, with a reduced impact on the environment. For example, they want to use renewable energy sources such as wind power. When cleaning the sanitary facilities and the campsite, they also want to avoid the use of pesticides and chemicals as much as possible. Water consumption should also be reduced, the campsite's grocery shop and restaurant should use local products as much as possible, etc. Also, when campsites have a mini-farm or animals, these must be 'local'.
European environmental certification
Many campsites therefore apply for an eco-label, the above criteria of which are scrutinised by an independent body. If the campsite meets the required criteria, it is awarded a European eco-label, such as the Ecolabel, which is then visible to everyone in various parts of the campsite (including the reception).
So here's how it could ideally work: you arrive at the campsite with your electric car, you have the necessary charging point for your electric car and for a few days or weeks you spend your holiday at a sustainable and environmentally friendly campsite, without leaving an unwanted carbon footprint behind you. All this without giving up any of the services, relaxation and fun, as the list of ecologically managed campsites on Camping Direct proves.
Camping holidays with an electric car - pure relaxation
A small but important bonus: the electric car holiday starts at the beginning of the journey. You drive to your holiday destination without engine noise and arrive at the campsite relaxed and in a good mood. With an electric car you also save your own resources!
So go ahead and book your campsite with an electric car charging point now, and enjoy a relaxing camping holiday, taking care of yourself and your environment.