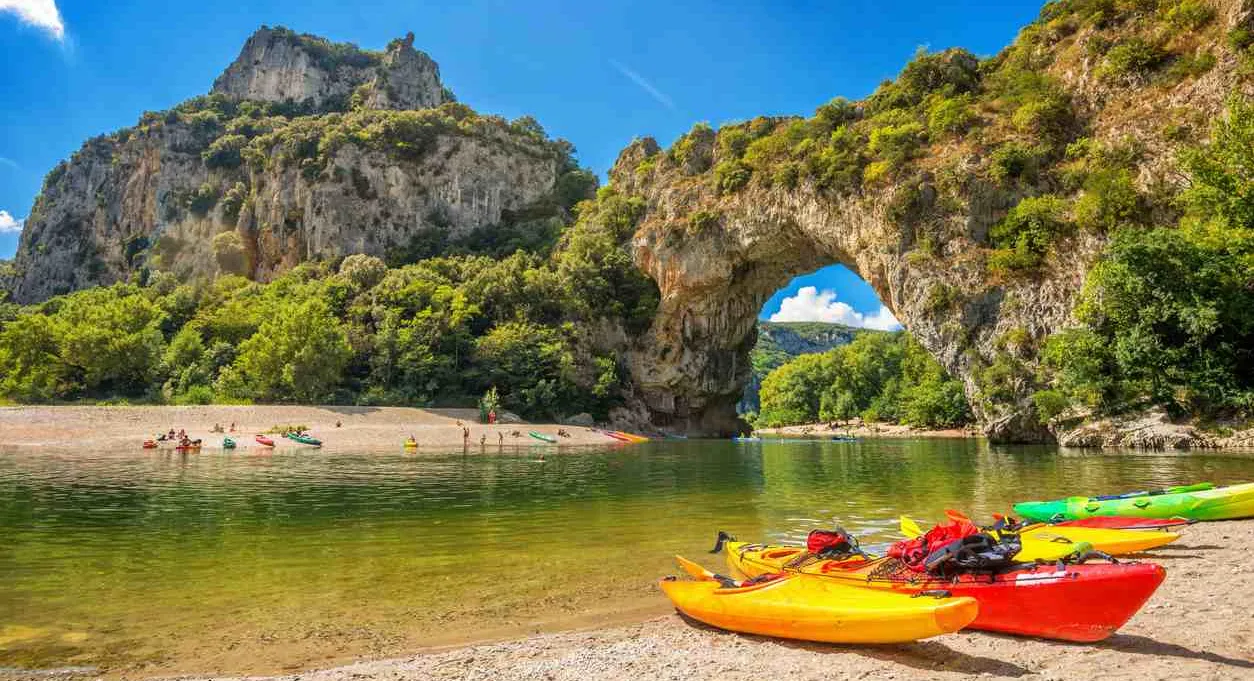 Ardeche is a top destination for nature lovers and an ideal choice for relaxation and outdoor activities. Choose a campsite in the heart of this southern French region for a stay close to the Vallon Pont d'Arc, a river or one of its many gorges and always surrounded by nature. Enjoy fully equipped mobile homes, safari tents or stay on a spacious pitch for your tent or camper. The campsites offer affordable rates and the chance to spend great nights under the stars. Whether it is rental accommodation or a camping pitch, the campsites in the Ardeche, often with a swimming pool, offer the facilities to make your camping holiday an unforgettable experience and give you and your children, your friends or your partner a wonderful holiday to talk about for years to come.
Why choose a campsite for your holiday in the Ardeche?
Most of the campsites are located along the river, between Ruoms and Vallon-Pont-d'Arc, which marks the entrance to the Ardeche Gorge. Renting a mobile home with a covered terrace or a pitch for your tent or camper means enjoying a holiday with your feet in the water. Many campsites in the Ardeche have both heated swimming pools (sometimes even indoors) and direct paths to the river. There are also campsites with large water parks where both young and old can enjoy hours of water fun going down its water slides. Getting bored is almost impossible  and if the kids are looking to do something different, many of the campsites organise kids' and teenagers' clubs, filled with creative and sports activities.
Do you feel like a camping holiday with maximum comfort, you will find several 5-star campsites in the Ardeche. Are you looking to bring your dog with you on holiday? Pets are welcome at most campsites. Are you athletic? Many campsites have sports equipment, to enable you to stay in shape during your holiday.
Campsites in Ardeche are an ideal destination for nature, water and adventure lovers. Choose one that suits your tastes and budget and discover this beautiful region.
What to do from your campsite in the Ardeche?
Try your hand at water activities.
The natural and cultural heritage of the Ardeche makes it an ideal holiday destination. A great way to explore the gorges of the Ardeche is go canoeing, kayaking, canyoning or hydrospeeding. There are several routes along the gorges. All of them will allow you to enjoy an adventure packed day and a chance to discover its beautiful landscapes whilst picnicking on the small beaches along the banks. Should you wish to take home some lasting souvenirs some canoe rental companies even have professional photographers on hand at various points along the route to capture your unforgettable day.
Combine outdoor sports and fun
Other alternatives: go hiking or cycling. Follow one of the well-marked paths you will find throughout the Ardeche, or head for a visit to the Monts d'Ardeche Natural Park before heading back to the campsite in the afternoon for a well-deserved dip in the swimming pool. For the more avid walker or keen cyclist great cross-country trails can be found in the Monts d'Ardeche Natural Park. Another idea to spend the day is explore Mont Gerbier, in the Massif Central. Here begins the Loire river, France's longest river.
Explore the famous prehistoric caves
Perhaps even more breathtaking is the underground world of the Ardeche. Young and old alike can admire the prehistoric galleries of the Grand Site d'Orgnac, as well as the reconstruction of the Grotte Chauvet. It is the oldest decorated cave in the world, with frescoes dating back 36,000 years. At the site children can take part in fun activities to learn about art and prehistory.
Discover a region with a rich heritage
Booking a campsite in the Ardeche also means being able to visit some of the atypical villages labelled "Villages de caractère" or those on the most beautiful villages list "Plus beaux villages de France". Vogüé, is one such village set on a cliff with breathtaking views. Spend time on its beach by the river and visit its castle. Then there is Banne, a medieval village with its 16th century castle ruins. And Vallon Pont d'Arc, Balazuc, Saint-Martin-d'Ardèche or Tournon-sur-Rhône not far from Valence are also well worth a visit.
When to go camping in the Ardeche?
Winter and autumn are relatively cool in the Ardeche, whereas summer and spring are milder. The most favourable period, if you are looking to do water activities, is the summer, but each season has its own charm and each has its own advantages!
Consult our guest reviews to make your choice
So don't wait any longer, because the Ardeche campsites sell out very quickly. Take a look at the certified reviews on Camping Direct left by guests who have stayed at the campsites in the Ardeche. Choose a campsite that best fits your needs and that of your family and start looking forward to a relaxing and aventurous holiday with your family!
More info
What type of accommodation?
Ardèche :

109

campsite(s) available Several factors can affect the classification of a campsite. More info
More camping destinations