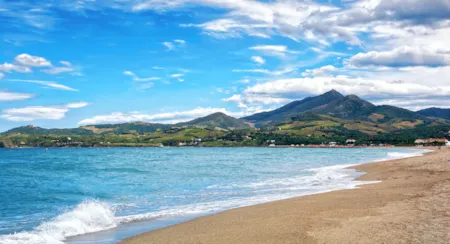 Camping in Argelès-sur-Mer
Stay at a campsite in Argelès-sur-Mer during your vacation by the Mediterranean sea. This destination in southern France is just perfect if you wish for a quality rest in the sun.
The camping offer in Pyrénées-Orientales compares to no other - you can find any type of establishement here, and certainly one that matches your needs and requirements. 
Argelès - as it is simply often called - is located by the sea but still close to the mountains. Which means you can be staying at a "simple" site in the heart of nature, one that's made for hiking lovers travelling with their dog for example, , or rent a cozy, luxurious even mobile home with direct access to the beach. Indeed, you will definitely need lots of sunscreen for the region is one of the sunniest of France. You will obviously also need at least one bathing suit to fully enjoy the many beaches of rocky côte Vermeille ("vermillion coast") and lovely little creeks near Collioure. Not to mention the water parks inside the campsites of Argelès sur Mer with their indoor pools, water slides, jets, paddling pools etc.
Why choose to stay at a campsite in Argelès-sur-Mer ?
All services and amenities you can think of are available: bars, restaurants, shops, Wi-Fi internet, fitness classes, SPA, sports, you name it. Handicapped persons are most welcome in most of the 3, 4 and 5-star campsites of Argelès-sur-Mer.
If you're travelling with your family, book at a campsite with pool or water park with a mini club or kids club. Usually, in high season, these same types of sites invite you to fun activities in the day and in the evening, for kids and grown ups alike.
The 5-star campsites of Argelès-sur-Mer often give you direct access to the sea and have something for each member of your party - never a dull moment with the sea, playgrounds and activities avaialble at all times. To sum it up, the destination is made for people searching for the sun, the sea and a leisurely vacation.
Camping in Argelès-sur-Mer : seaside and inland
Argelès-sur-Mer is not all lazing-on-the-7-kilometers-of-sandy-beach for it has another great asset that equally attracts tourists - the Pyrénées mountains. Indeed the campsites of Argelès-sur-Mer organize has many nature activities as water activities.
The mere sight of mount Canigou from the city's marina is revealing. You should therefore note that hundreds of hiking paths run through the mountains nearby, more particularly Massif des Albères. The campsites of Argelès-sur-Mer can organize lovely walks for "green" tourism lovers and excursions to explore the Mediterranean seabed.
Your cabin or mobile home will most often be located near nature reserves or pine forests. Mas Larrieu nature park for instance, is famous for its beach while Réserve naturelle de la forêt de la Massane - Massane forest nature reserve - has a fantastic wildlife.
Walk the Sentier littoral du Racou - coastal path - to Banyuls or Collioure. Relax on Argelès-sur-Mer's bars and restaurants terraces. You'll certainly stumble upon locals playing petanque. Do not forger the farmer's market everyday in high season.
Argeles-sur-Mer : unforgettable camping holidays
In the town itself, visit Notre Dame dels Prats church but most of all, taste the many great specialties of the local cuisine with its hispanic touch. Wine tasting is also recommended as you'll find many vineyards - Domaine du Château de Valmy is the most famous of them all but it's not the only one. Obtenez plus d'informations sur la ville d'Argelès-sur-mer.
The sea and the mountains plus the fantastic weather all year long make Argelès-sur-Mer one of the very best camping spots in France. You should also be aware that most sites have a cancellation insurance in case of problem after your booking.
Be careful : this is a very popular destination so you should definitely book early in order to make you ou find an accommodation and you benefit from potential early booking discounts. Experience camping holidays in Argelès-sur-mer !
Read more
31 campsite(s) available from € 120 Several factors can affect a campsite's ranking. More info
More camping destinations